Anytime I'm getting ready for a trip to Disney World, the first thing I do is figure out what I might need for small emergencies. With two little kids I always want to be prepared, from needing a small Band-Aid to having medication for a headache.
Several years ago we were in Tennessee and my daughter got her fingers smashed in the sliding door. I had nothing but a few Band-Aids, which wasn't going to bandage this boo-boo.
My dad ran out and picked up a Johnson & Johnson All Purpose First Aid Kit containing 140 items. It came with gauze, tape, and plenty of Band-Aids and we used up most of the kit that week. Now I repack it for our trips to Walt Disney World and add children's Tylenol. I like that the kit is hard plastic and I can stock it as needed. It's a little too big to bring into the parks, but it's nice to have a supply stash back at the resort. For around $10 to $15, it is definitely worth having. Ever since that incident, I don't go on vacation without it.
The Johnson & Johnson Portable Travel First Aid Kit is great to throw in a book bag or diaper bag, especially if you have an accident-prone kid. There are first aid centers in each theme park, but there are many minor issues you can take care of yourself. This small kit has essentials like Band-Aids and Neosporin and is under $10.
If you REALLY want to be prepared, check out Adventure Medical Kits Smart Travel First-Aid Kit. It's a little expensive (almost $50) but it has just about anything you might need for your trip. One of the nice features of this kit is the addition of Moleskin patches. These are great for blisters, which we all usually get by day two of our vacation!

If you're not interested in buying a first aid kit, the American Red Cross has put together a nice list of items you might want to consider when building your own kit. You can always pick up a small plastic box in the storage section at places like Walmart or Target.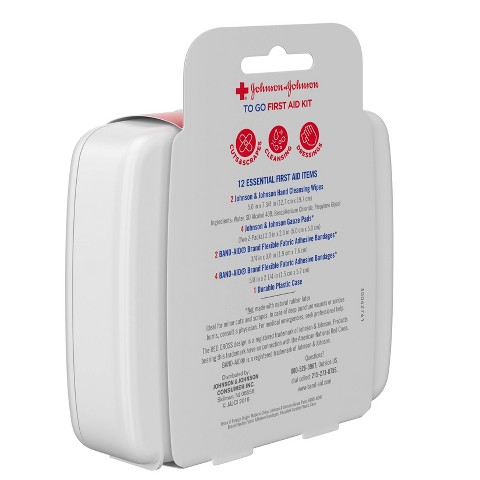 At the very least, you might want to hit the travel section in Target and pick up Johnson & Johnson First Aid To Go. For around $1 you can have some Band-Aids and ointment on hand in a nice little plastic box. It never hurts to be prepared.
If something happens while on Disney property and you aren't prepared, there's no need to panic. Disney is great about helping, no matter what the situation. When my son was one year old he came down with a fever on our last day. We stopped by the First Aid center at Epcot and they took his temperature and gave him some Tylenol. Disney Resort hotel gift shops also carry very common items for your convenience.
It's nice to know when traveling to Disney that your trip will have Hakuna Matata!
For more on what to do if something happens while you are at Walt Disney World, be sure to check out Helping Hands: First Aid at WDW in the February issue of WDW Magazine.  Click here to see it!